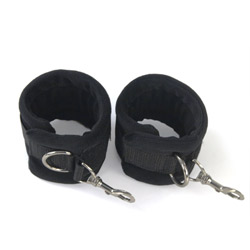 I absolutely love restraints, so when I saw these affordable plushy gear wrist restraints I knew I just had to have them! The minute I got them I immediately put them on. Although my partner would not be home for a few hours I wanted to test them out and see how they felt. Unlike a lot of affordable (read: cheap) restraints, these are very well padded, not thin straps held together with Velcro.
While they are held together with velcro they are quite thick and extremely comfortable. The velcro is strong and sturdy as well, able to withstand quite a bit of struggling, pulling, and attempts to break free, as I like to test out all new restraints with a large amount of struggling. The restraints held their own, not budging one bit.
The restraints have convenient clips on them, making them easy to clip together or to other things such as spreader bars, restraint systems, collars, or anything else you can imagine. They are quick and easy to use, perfect for when you want a fast way to immobilize someone without all the hassle of rope or ties.
Obviously these are not hardcore leather cuffs, they're plush and soft and not meant for leather enthusiasts, but that does not mean they are not suitable for bondage experts. As I said, these are a quick and easy way to bind someone and can be perfect for a quickie when you don't want the possibility of marks left behind from cuffs, rope, or metal. In fact, unlike leather, the plush material can be used in water, which means these cuffs could be brought with you into the shower, hot tub, pool, or other wet area without having to worry about damaging them.
The only thing I was worried about with these restraints was whether or not they would fit my large wrists. I'm a large girl, both big boned and bbw, so I've often found restraints to be too small for my wrists. I figured, since the velcro strap was rather long to attach them, they would fit regardless, but they might not overlap the way they are supposed to. I am always willing to take the risk that they might not fit perfectly and give them away, however they did fit perfectly on my wrists, and I'm excited to check out their matching ankle restraints as well.
Overall, I think these cuffs are absolutely wonderful for those times when I am not desiring the heavy feel of leather, the intricacies of rope, or the marks that often accompany both. These are so easy to use and so comfortable for such a great price there is no reason for anyone not to own a pair, from expert bondage enthusiasts to bondage beginners.